The right criteria for an effective psychedelic retrea
How to choose a psychedelic retreat?
When you have selected the psychedelic retreat that suits you best, it is crucial to understand the potential effects of substances, such as cognitive changes, emotional breakthroughs, and mystical experiences. By having a clear idea of what you are looking for, you will be better equipped to choose the substance that will meet your expectations.
Choose an institute that offers a green and bright location with old trees and a nice house to sleep in. By selecting very favorable living conditions in a climate of calm and trust, you will best prepare your mind for a positive experience. Breathing and meditation exercises will be more enjoyable if you like the place where you are and feel good there. After the psychedelic trip, you will appreciate this green setting even more and may feel a strong connection with the trees, nature, and other participants. Treat yourself to some pampering !
Mushrooms and others: Choosing the right substance
The available substance options may seem endless, and each retreat center offers a different selection. Magic mushrooms, ayahuasca, bufo toad, peyote, and San Pedro cactus are all possible options.
However, scientific research has mainly focused on magic mushrooms and MDMA, which have received the revolutionary status from the FDA. These substances have demonstrated potential efficacy in treating many mental health problems, such as depression, anxiety, PTSD, addiction, OCD, migraines/cluster headaches, and fibromyalgia.
But beware, these medicines are only legal in a few countries worldwide, and retreat centers often operate in a gray area of decriminalization in some countries. Therefore, it is essential to inform yourself about applicable laws to avoid trouble.
Caution in the face of contraindications
Finally, remember that the use of psychedelics is a serious matter and must be approached with caution. Although these substances can offer significant benefits for some people, they are not suitable for everyone. If you have a history of bipolar disorder, schizophrenia, or psychosis, be particularly vigilant, as these conditions can be exacerbated by psychedelics and lead to dangerous complications.
Unfortunately, if you suffer from one of these conditions, you will likely be refused to participate in the psychedelic retreat. Scientific research still needs to deepen the effects of psychedelics on these mental disorders.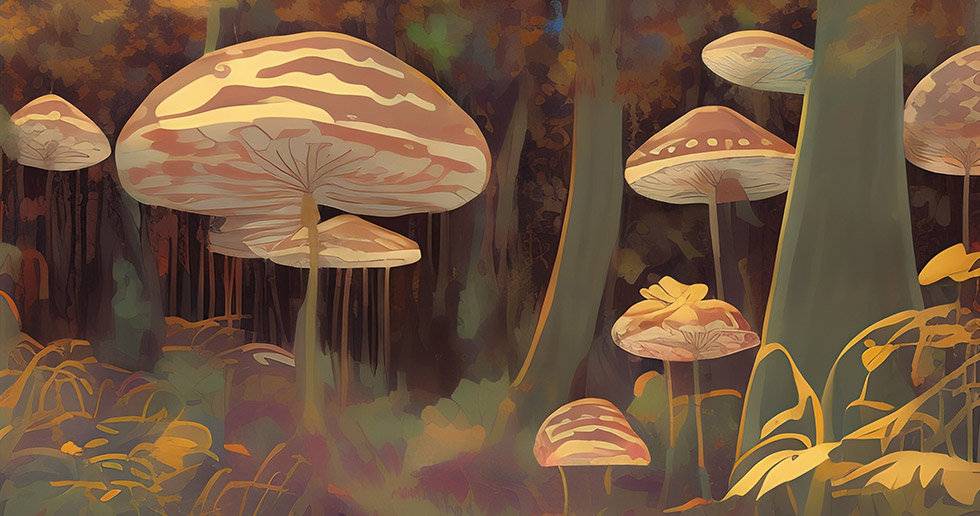 Yummy?
Psychedelic retreat centers
In psilocybin retreat centers, careful guest selection is a crucial step. Thus, it is necessary to have a detailed application process and rigorous selection process, including a phone or video interview with a mental health professional. The application form must be complete and detailed to help the staff understand the medical history of each guest and to determine if psychedelics are appropriate for their particular situation.
What size should a group be?
Regarding magic mushrooms, group size is essential to finding the right balance. Indeed, a cohort of 10 to 20 guests is considered ideal to ensure a positive experience and optimal results. Beyond this number, things can quickly become complicated.
Ultimately, the personal-guest ratio is the most crucial factor in ensuring that each participant receives the attention they need in a timely manner. Retreat centers may have different ratios, ranging from 1 facilitator to 2 participants to 1 to 5 or more. For a safe and fruitful psychedelic retreat experience, it is best to choose a center with the highest ratio of facilitators per guest.
The methods of support during the psychedelic trip
The stakes and methods of psychological treatment are inseparable from the adventure of a psychedelic retreat. That's why it's important to be attentive to how the team is trained in providing support, selecting participants, and listening to them.
The right place to consume magic truffles
Magic truffles containing psilocybin can induce hallucinations and open-mindedness, but they can also trigger episodes of depression or anxiety. Therefore, it is crucial to take the necessary time to choose an appropriate residential location with qualified and experienced facilitators.
A solid therapeutic approach and an established relationship of trust with the facilitators are also essential throughout the 3- to 5-day retreat. A single dose of psilocybin is often enough to induce lasting psychedelic effects, but it is important to note that these effects are not permanent and that psychological treatment may require long-term follow-up.
The garden can be a place of contact and simplicity to mentally and physically prepare for the retreat. Meditation can also be a useful practice to envision the psychedelic experience.
The experience of facilitators
It is crucial to choose facilitators with in-depth practical training and a solid education in the field of psychedelic therapies. It is also essential to check if the retreat center has a psychiatrist and an on-call doctor, as well as medications available in case of unforeseen medical or mental crises.
Don't forget to consider the therapeutic methods available in the facilitation team, including approaches such as IFS, Somatic Experiencing, and Acceptance & Commitment. Team members with experience in modalities and therapy for childhood sexual abuse trauma are also indispensable to a complete facilitation team.
Antidepressant treatment and dosage of psilocybin truffles
Rigorous preparation is also paramount before embarking on such an experience. If you are taking SSRIs antidepressants, it is imperative to gradually reduce them under the direction of a doctor or psychiatrist to minimize the risk of complications.
Determining the appropriate dose of psychedelic and choosing the objective of your psychedelic retreat are crucial elements in optimizing results. Therefore, it is important to consider the new lifestyle habits you wish to adopt, as well as the need to continue therapy. It is also crucial to work with a reliable and clearly experienced team to guide you throughout the experience.
The importance of follow-up after the psychedelic retreat
However, enjoying the psychedelic experience is not limited to dosage and objectives. It is equally important to feel the long-term effects of the retreat. To do this, integration therapy is essential to optimize long-term results. Working with a licensed, trained, and experienced therapist will guide you in group integration to significantly improve your experience and results.
Returning home
Finally, after returning home, it is essential to continue to receive support and post-retreat therapy to continue your progress. Continuing group therapy via Zoom may be preferable to reconnect with your cohort and original therapy team, to help you continue to move forward. Remember that for real healing and lasting transformation, post-retreat therapy is just as important as the psychedelic retreat itself.
Stay within the legal boundaries
There are many psychedelic institutes that offer high-quality retreats, such as Tangerine Retreat, Essence Institute, or Synthesis Institute. All of these retreats offer a natural setting, close to the forest, comfortable accommodation, and the support of a professional team of facilitators. Additionally, these retreats are legal as they are located in the Netherlands, where magic truffles are allowed (but not magic mushrooms). Before getting started, always check if the company offers a service in accordance with the laws of the country and do not do anything that could cause you stress or legal problems.
---
The Psychedelic Tree House Kimono
---